IFCII's Advanced Commercial & Residential Course
September 11-14, 2023
Time: 8:00 am – 5:00 pm
1856 Corporate Drive, Suite 100
Norcross, GA 30093
Class Fee: $895.00
Exam: $300.00
 The 2021- 2022 IFCII membership fee is included in the class fee to IFCII members attending the October Advanced Class.
Now Offering Virtual Class Options!
See how we are adjusting to provide you with the best experience while following
COVID-19 guidelines
!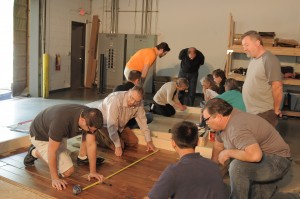 Hardwood and Ceramic Certifications
This class is only offered once a year. Don't Miss Out!
The Advanced Commercial & Residential Certification Class will feature:
IFCII Instructors – Billy Simmons and Henri Carr
Covering Topics such as:
-Ceramic
-Stone
-Wood
Learn about the usual and unusual things that can go wrong with wood flooring production.
Advanced Wood Certification
IFCII's Advanced Wood training prepares inspectors for the most challenging wood inspections. This training focuses on:
-Wood characteristics
-Natural flaws
– Installation issues.
-Proper tool use
-Verifying the accuracy of moisture readings
-Precision board & gap measurements
-Proving measurement accuracy
-Establishing averages
-How to conclude with confidence.
This year we will welcome a special guest instructor, Roy Reichow
In loving memory of Roy Reichow
He has added so much to the flooring industry.
Roy Reichow began his wood flooring career in 1971 as an apprentice with Art Luedtke Wood Floors. Art had a keen eye for detail and replica of fine parquet flooring; this was Art Luedtke's mark of excellence.
National Wood Floor Consultants (NWFC) was established in 2002, providing education to the wood flooring industry. In 2003, Roy became Minnesota's first certified wood floor inspector for the National Wood Flooring Association (NWFA). A certified wood flooring inspector is a consultant who performs field investigations on hardwood flooring, providing written reports for architects, commercial and residential building owners, attorneys, general contractors, flooring contractors, manufacturers, insurance companies, and others.
Roy was on the National Wood Flooring Association task force, reviewing the technical manuals, which are used throughout the industry today. He felt the importance of education is to ensure the quality of wood floors is met, which is often lost in today's competitive market.
Through the mission of NWFC, Roy is taking what was given to him and paying it forward by passing along this valuable knowledge to the next generation of flooring professionals
Roy will be missed!
Continuing education is fundamental to not only to IFCII, but also the mills and inspection services are adamant about the need for inspectors to continue their education to remain up to date on the products and issues in the flooring industry. This is a certification not to be missed.
"Outstanding! Instructors that really care!"
"It shows from the way that they present the materials to the break time conversations. Its all about making sure that you are comfortable with the material being presented and answering all of your questions…"
Trent Oates, IFCII Certified Inspector
Charlotte North Carolina